Love to sing?
Want to meet new people? Build on existing skills? Then come along to one of my singing groups! As a professional musician, I want to create a relaxed, social place for people to gain more confidence in singing, meet new people, collaborate and perform! With a variety of different sessions ranging from Mum and Baby singing groups to Saturday morning sessions you'll hopefully be able to find the right choir for you.
Join this relaxed, friendly group to sing contemporary songs and meet new people. We are Read More ...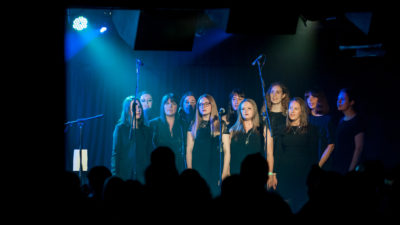 Finish a day at work with a good sing by joining our after work singing group Read More ...
Welcoming parents who want to sing for themselves and entertain their little ones. Join this relaxed, Read More ...
Tonight's Chorlton Ladies session is at Into the Woods (across the road from our usual Read More …
Hi everyone! I'm away for a couple of weeks so my classes will resume on Read More …
A few ladies from both choirs sang as a backing choir with my band Canter Semper Read More …
We had a smashing time at Oxjam Manchester 2018 this year at the fantastic venue Read More …
Thank you so much to everyone that supported Mic up for Manchester, we had a Read More …
We're really excited to be performing at The Bowling Green Pub in Chorlton at 4:30pm Read More …
The NQ Singing group headlined Club Academy with Canter Semper last Saturday. They did fantastically Read More …
I was absolutely honoured to be leading Manchester Survivor Choir on the anniversary of the Read More …
We're delighted to be singing with Canter Semper at Manchester Academy on Saturday June 16th Read More …
Scroll Up